If I were to grade my self on blogging.. this would be it..
Didn't had much time, (actually there is, when I think of it... it' just a matter of prioritizing), no blogging done for two whole months, there were attempts yes, but unsuccessful, two drafts actually and will delete them if I get to post this blog. I'm thinking maybe it's high time to schedule a blog-date for me.. maybe Thursday after my badminton session... will see.
And of course even if there has been a long absence it doesn't mean I didn't do any crafting.. that would be impossible!(gasp! just the thought), ME - not doing any crafting.. so here are my finished objects for the last two months.


First off is just a simple crochet mesh headband I made for my 2 DD..


This is a simple mesh headband and used Cannon Thread size 8 with 2.00mm crochet hook.
Next.. I just love this pattern, and how to you can make a picot edge without even making a picot stitch.. you just knit the lace (YO) and folded in and you got a picot!
Project started: 13.1022012
Project finished: 18.10.2012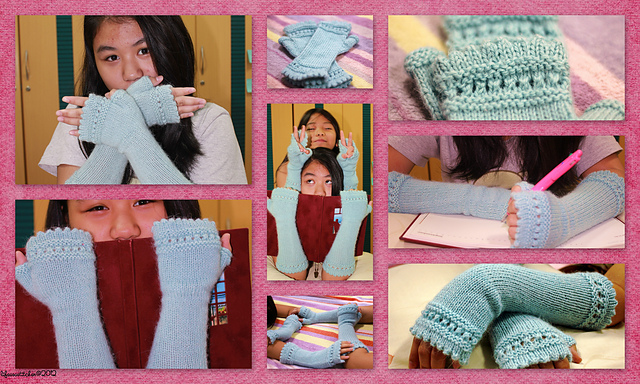 Project started: 20.10.2012
Project finished: 24.10.2012
Seeing that I made mittens for these two gals, they're ever so jealous DH asked if I can make one for him.. of course not with the same pattern.. I made a more simple one.. but failed to get a photo of it, he's been keeping it in his car to keep his hands warm while driving.
So that's 5 already...
You didn't think that's it do you? You probably know by now that once I finished an item, I will immediately find another item to make.. be it knitting, crochet or sewing (yep you read that one right.. sewing.. will tell you more in another blog soon).
Just keep scrolling down... to see more :)
So for the month December here are my finished items...
Easy Hat
Needle size: 10mm
Project started: 24.11.2012
Project finished: 24.11.2012
Item size: 9yrs old
I made this one for DH, but noticed that it's a bit small for him so decided to give this to my 9yrs old DD. It's been one of her favorite. Since hubby really wants to at least match a hat for his fingerless gloves, I did another version of this...
Easy Hat 2
Needle size: 10mm
Project started: 25.11.2012
Project finished: 25.11.2012
Item size: adult
If you will look closely, this one is much longer, and I add a few stitches to fit DH' quite huge head. :)
Now this one is a keeper! really a keeper, some of my friends wants me to make one for them..
[My] Penelope Shrug
Needle size: 3.5mm & 4.00mm
Project started: 05.12.2012
Project finished: 26.12.2012
Item size: adult
Another reason why I love this shrug.. not only because it fits me... but because I was surprise with the yarn.. The yarn is a combination of acrylic, polyester and viscose because it got a sparkly bits and pieces which make this nice to wear on a party or in the afternoon stroll at the park wearing your favorite jeans... And it's slippery better use bamboo instead of metal needles.. and what's more is that it's very pleasant to wear... and the pattern.... my it's a breeze going through it... very stragiht forward unlike the other shrug pattern I was making.. (it's a whole new story, will post it next time).
Little Sister1
Hook size: 4.00mm
Project started: 27.12.2012
Project finished: 30.12.2012
Item size: adult
The only modification I made is when I was doing the row before the last, I omit the chain one in between the v-stitch and the sc.
the follower pattern is from
Rose Hip Blog
and used Knitpicks Comfy Worsted white and honeydew for the green part.
Little Sister2
Hook size: 3.75mm
Project started: 01.01.2012
Project finished: 01.02.2012
Item size: 9 year old
This is my first project for the year 2013. The butterfly pattern is from Dishcolth blog is called
3-DPattern
. and I used Anchor Magic yarn.
Modification made: change hook size to 3.75mm, and omit the chain one in between the v-stitch and sc when doing the last two rows of the pattern.
... this is what I did.
sl st on chain one space, sc on the same space, v stitch on the next v stitch, sc on the third dc from previous rows... hope this makes sense to you.
Little Sister3
Hook size: 3.50mm
Project started: 02.01.2012
Project finished: 04.01.2012
Item size: adult
This time I made this for a friend - Noraima...
The only modification I did was change the hook size to 3.5mm and follow the pattern as is.
I just love this pattern very simple but elegant (can't you tell *grinning*). If you'll notice I didn't add any applique.. as the alternate colors did a very nice effect on the hat..
So I guess my year 2013 started nicely.. and with my other projects still waiting to be finished like the granny square afghan, and the shrug I mentioned to you about.. I'll post them on my next blog.. guess this is my first post blog entry for year 2013.
Wishing I would be able to maintain updating my blog... will have to figure out how often and when should be my update whether there is any progress on my projects.. :)

keeping my fingers crossed
Continue reading...
Comments
Comments